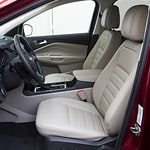 Looking to drive one of the most popular compact SUVs in the Buellton, CA area? Then you'll want to check out the fast-selling Ford Escape. The Escape is known for its excellent convenience features. Here are the top convenience features now available on the current model.
The Escape is one of the few compact SUVs that offer a unique 12.3-inch digital cockpit display. This display can be configured to allow you to access the driver information that you want. This allows you to get the information that you need while you are focused on the road.
When it comes to continence, the Escape shines with its power-activated, hands-free liftgate. Simply place the keyfob into your pocket, walk up to the back of the Escape and place your foot under the center of the rear bumper. The liftgate will open automatically.
See the Ford Escape in action. Take it for a test drive today at Jim Vreeland Ford.