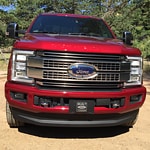 When it comes to tough trucks, the Ford Super Duty goes the extra mile. In fact, the current generation Ford Super Duty is more capable than ever. Here is why the Super Duty is designed to last.
Ford has put over 20 million miles of testing on the Super Duty. That means that the testing team has literally driven this truck the equivalent of 803 round trips around the planet to ensure that the Ford Super Duty will last for you.
Along the 20 million miles, the Super Duty has been tested in extreme weather conditions and has been driven in temperatures from minus 20 degrees up to 120 degrees. Whether you are escaping Buellton to take a winter trip to the ski mountains or into Death Valley, the Super Duty will be able to last.
Get behind the wheel of the Ford Super Duty by taking it for a test drive at Jim Vreeland Ford today.