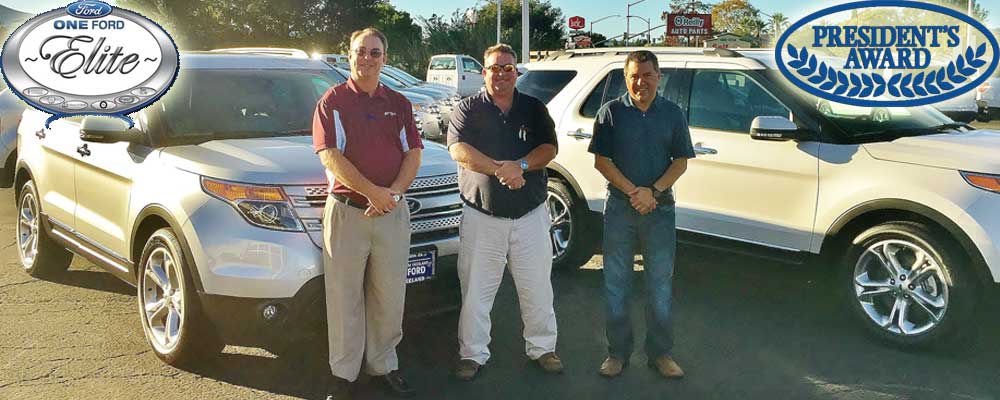 It's a Family Tradition..... "Still the Home of Mr. Nobody"
It started with Jim Vreeland Sr. 30 years ago. The "Home of Mr Nobody" began a tradition of delivering great vehicles with superior sales & service customer satisfaction. That is how Jim Vreeland Ford earned the Ford Motor Company's President's Award many times over and is Blue Oval Certified. The President's Award recipients exemplify commitment and resolve. These dealers understand what it takes to attain the distinction of a leader and can consistently exceed that level. Do you know what makes this award even more significant? Our customers are the judges. Through a comprehensive survey, Customers rate Dealers on the basis of their Sales and Service experiences. Every year, only 340 Dealerships out of more than 5,000 are awarded this high honor. Jim Vreeland Ford has earned this distinction multiple years in a row since the dealership has been in existence. If that wasn't accolades enough, Jim Vreeland Ford is the Recipient of the "Elite Dealer Award" (Paso Robles to San Diego). These dealers are the very best of the best from the President's, Ford One Hundred Club, Lincoln Leaders, FCSD Premier Club, Triple Crown and Ford Credit's Partners in Quality Awards. Quite a feat! Just like Jim Sr., Jim Jr. and Dan Vreeland along with Michael Gamboian continue to demand excellence in service and customer satisfaction. You can count on Jim Vreeland Ford to take care of you and your vehicle professionally, courteously, competently, and just as our motto says -
"Quality Vehicles at Affordable Prices with a Lifetime of Support!